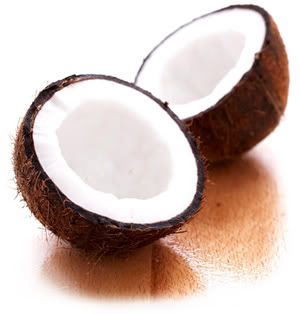 My husband isn't really a magdalena, muffin in English, type of guy, but he goes crazy for these! He claims that these
magdalenas de coco are "one of the best" things that I make. This recipe makes a super light and fluffy muffin that is just
bursting
with coconut flavor and topped with a delicious and tropical coconut key lime icing. This is a must-have recipe if you have any coconut lovers in your family!
I use three types of coconut in the muffin batter to make these coconut muffins: coconut milk (leche de coco), dried shredded coconut, and coconut oil. I also use Pina Colada scented oil into the batter to give the muffins an extra tropical scent. Walk a few of these by anyone and they will totally be craving a tropical island getaway for months afterwards! These muffins are a great treat to whip up during the middle of the dreary winter months when everyone is wishing they were on an island somewhere in the
Caribbean
.
Because these
magdalenas de coco
are so fluffy, they are best cooked in a mini-muffin tin because they will stay more compact and won't crumble as much. Don't freak out if you don't have one though, a regular sized muffin pan works just fine, they will just be a little messier to eat.
Here's my recipe for some tropical magdalenas de coco:
Magdalenas de Coco:
Ingredients:

Batter:
1 cup coconut milk (I used the
La Fey
brand here)
1 cup shredded coconut (I used the
Let's do...Organic
brand here)
1 cup of coconut oil (I used the
Spectrum
brand here. You can use vegetable oil if you don't have any)
1/4 cup orange juice (or any orange flavored drink will do)
1.5 cups all purpose flour, sifted
1/2 cup granulated white sugar
1.5 tsp. baking powder
1/2 tsp. baking soda
1/4 tsp. salt
2 tsp. vanilla extract
Coconut Key Lime Icing:
1 cup of confectionery sugar
2-3 Tbsp. of coconut milk
1 tsbp. key lime juice
Directions:
In a bowl, combine the coconut milk, coconut oil, orange juice and vanilla extract together.
In another bowl, combine the sifted flour, sugar, baking powder and baking soda, salt, and shredded coconut.
Add the flour mixture slowly to the liquid mixture and mix until well combined.
Pour into mini or regular muffin cups and bake about 12-15 minutes at 400 degrees, or until done inside.
Remove muffins from the pan and set on wire wrack to cool.
Once muffins have cooled, combined icing ingredients together and drizzle over tops of muffins.
Buen Provecho!