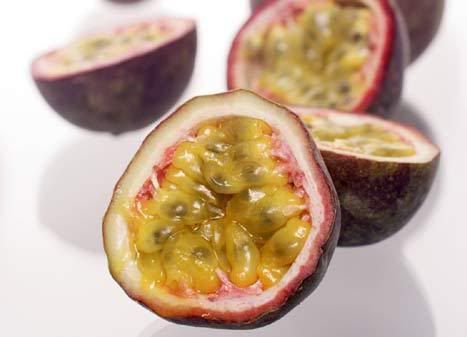 Easy Recipe for Passion Fruit Cupcakes.
The name
of this quequito, or cupcake, comes from the always serious, and also seriously rediculous, telenovela, or soap opera, called, "Lleno de Amor", or "Full of Passion". I thought this name was very appropriate for my latest cupcakes because they are literally,

full of passion!
Passion fruit nectar that is!
Wives, if you want a night of passion with your husbands, try making these cupcakes! Passion fruit is believed to be a powerful aphrodisiac and these little cupcakes might be exactly what he needs to give you a night of

amor

.
Passion fruit is known as maracuya in Spanish. Maracuya grows in tropical climates and is found all over the place in El Salvador. Passion fruit juice is a very light yellow, almost clear, sweet liquid that tastes very similar to pineapple juice, except with just a small amount of peach undertone to it. Its taste makes it an excellent ingredient to add to cupcakes and many other baked goodies.
Here is my recipe for delicious quequitos de maracuya, or passion fruit cupcakes. I used passion fruit nectar instead of the juice to give these cupcakes a stronger passion fruit flavor. I fill these quequitos with my milhojas cream, and top them with my famous whipped cream and white chocolate love decorations.
1 1/3 cup granulated white sugar
5 egg whites
1 1/4 cup passion fruit juice (I like the Gloria brand)
1 Tbsp of lemon juice
8 tbsp. salted butter, not softened
2 cups all purpose flour, sifted
2 tsp. baking powder
1/2 tsp. salt
Icing:
Food dye
White chocolate, to be melted into shapes
Chocolate molds
Beat egg whites until they are stiff and form peaks. Set aside.
In a new bowl mix the butter on high for a minute.
Add in sugar and beat butter and sugar until light and fluffy.
Sift flour, baking powder, and salt together.
Mix passion fruit juice and lemon juice together.

Sift in flour mixture, alternately with juice mixture, and mix until combined well.
Fold in egg whites and mix until combined, being careful not to over mix.
Pour batter into cupcake pan with liners and bake at 350 for about 20 minutes.
When done, remove cupcakes from pan and place them on a wrack to cool.
Once cupcakes have reached room temperature, fill them with milhojas cream.
Ice with my famous whipped cream and white chocolate decorations.